About us
Who are we?
NT Mobile Accessories is the official distributor of Pierre Cardin Mobile Accessories in Europe, mainly in the Netherlands, Belgium, Luxumburg and Germany. In addition to this, we supply cases and accessories from brands like Guess, Pierre Cardin, Karl Lagerfeld, Audi, Lamborghini, BMW, Mercedes-Benz, Ferrari and UNIQ Accessory for all brands of smartphones and tablets. We also have chargers, cables, screen protector, audio equipment, SD cards, powerbanks, car holders, car chargers, selfie sticks, bluetooth speakers and more accessories for smartphones, tablets and laptops in our warehouse.
Our team is constantly following trends, which means that our range is constantly increasing. We have two branches in the Netherlands, in Rotterdam and Beverwijk. Our head office is in Rotterdam. We also have an office in China. Since 2014 we have been a recognized training company for both BBL and BOL training.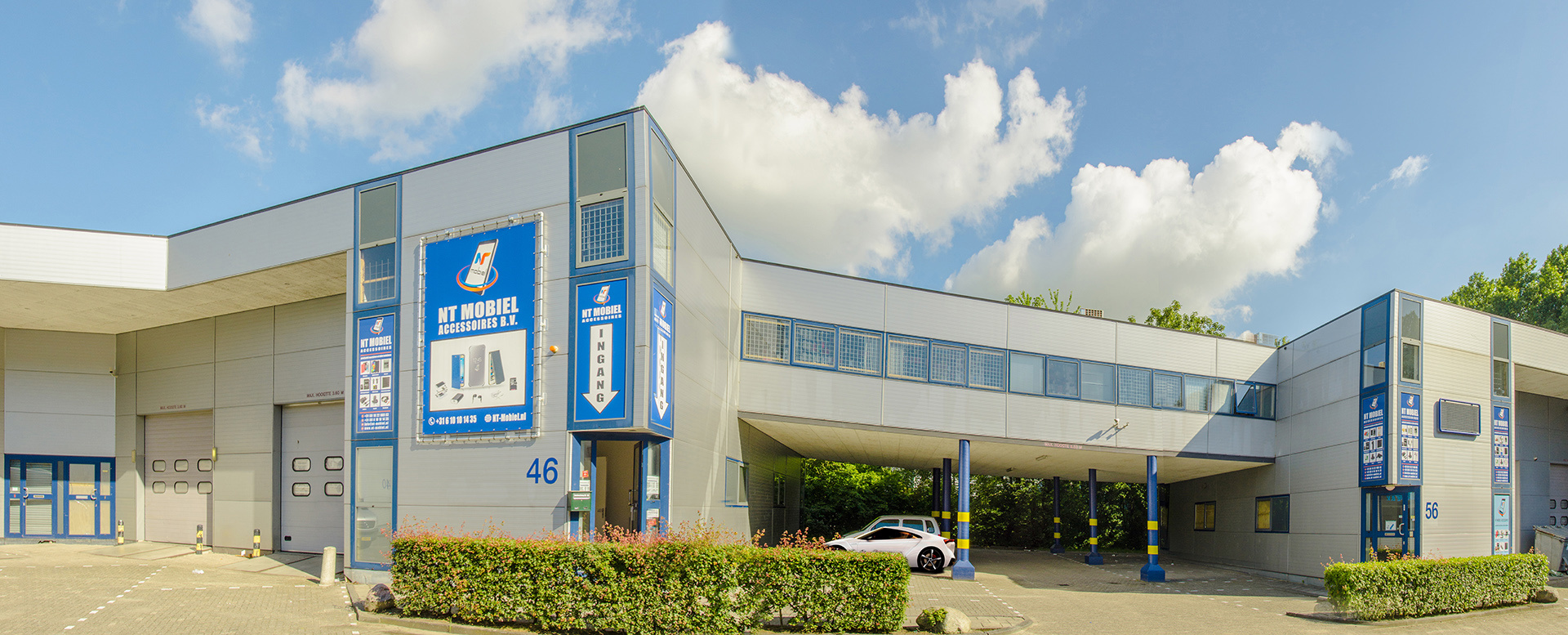 In addition to offering products, we also provide customized advice on (web) stores. With our years of experience, we are happy to help our customers choose the right products and services. We therefore offer a number of important shop equipment, giving advice to the shopkeepers about assembling and presenting their products.
Wij verkopen onder andere:
What is our vision?
Our company's vision is to ensure that the electronic devices that we use in our daily lives last longer. We also contribute to a sustainable future. We want to create awareness among consumers and try to lower the threshold when purchasing covers and accessories that help a device last longer. We want to show that the most damage can be prevented with mobile or tablet. We believe it is very important to combat the throw-away economy and make the telecom industry more sustainable. We show this, because we also offer repair parts. Having the device repaired can make it as good as new again.
The telecom sector is developing rapidly. We want to show that we have a suitable accessory for every type of mobile. We would advise not to follow all trends in order to always be in possession of the latest smartphone or tablet. It often happens that people are tired of their mobile or don't like the design anymore. An accessory with a new design can get a new life through an accessory. This way we also want to prevent you from throwing away too many devices.
NT Mobiel Accessoires goes to exhibitions. We follow the trends and constantly look for the latest products. That is why we visit many major telecom fairs. Occasionally we are also at the fair ourselves. Why? New and existing customers can then come into physical contact with the employees and products of NT Mobile Accessories. We find that very important because customer service is a high priority for us.
What do we do?
The market in which we operate is developing rapidly. We try to keep our range and services moving. This way we keep a close eye on what is needed to protect a mobile or tablet so that it lasts longer. We offer products that perfectly match your assortment.
In addition to being a wholesaler of mobile accessories, we also offer other services. We provide customized advice about (web) stores. We are happy to help our customers choose the right products and services. We therefore offer a number of important shop furnishing materials, whereby we advise retailers on how to assemble and present their products. In addition, it is possible to offer our products on your website.
We are available 7 days a week at our two locations to provide our customers with the best possible service. You can always come by with questions. Otherwise we can also be reached by telephone. We also offer professional, reliable and secure B2B service to the international market.
Service
NT Mobiel Accessoires considers it important to maintain a good relationship with the customer, which is why we pay a lot of attention to our customer-friendliness. You can reach us in various ways. Via email, telephone, website and WhatsApp.
OPENING HOURS
Rotterdam: Innsbruckweg 46, 3047AH Rotterdam
Monday t/m Saturday 9:30 - 19:00
Beverwijk: Parallelweg 124-38, 1948 NN Beverwijk
Za en Zo 9:30 - 19:00
CONTACT
Line: +31 10 229 89 03
WhatsApp: +31 6 85 00 45 01
Email Address: [email protected]
PAYMENT
IBAN: NL42ABNA0624837041
t.n.v NT Mobiel Accessoires
BIC: ABNANL2A
COMPANY
Name: NT Mobiel Accessoires
CoC Number: 55180167
VAT Number: NL851597518B01